THE PRECISE MOMENT
BY ZOILA CABRERA, FASTUP CEO
I always thought that we should adapt to changes. Life takes you down paths you never imagined and it is the ability to reinvent yourself that leads you to success.
I studied Communications at UNB (Brasilia) and finished my degree at the University of Lima.
I always worked in Advertising until -27 years- ago when life took me to make a turn in my career and work in what I call Public Relations Marketing.
Faith, courage, determination and my greatest inspiration – my children – are what led me to form Fast Up.
This is how Fast Up was born. With the intention of sharing my knowledge acquired throughout the years that I worked in the world of communications, and that they can be materialized in a non-traditional way of doing PR.
Inspiring and arousing curiosity, using relevant content and without leaving aside an analysis of the insights, we will achieve well-structured ideas that can change the world.
I surrounded myself with professionals from different areas of communication who had in common the proactivity and the speed in identifying the needs of the customers. Always oriented to obtain tangible results that lead to the success of the collaboration work between Fast up and the companies.
EXPERIENCE, KNOWLEDGE AND CREATIVITY
DISTINGUISH US.
Fast Up is a non-traditional communications agency with over 27 years of management in the local market,
with extensive experience working with national and foreign companies.
Specialized in communication strategies that seek to build, strengthen, consolidate and sustain
the reputation of our clients, always based on solid and creative concepts that
achieve a total immersion of their target audiences with the brand.
To manage a brand you have to know it and know the market.
At Fast Up we are SPECIALISTS.
We identify ourselves and know our clients in depth, in such a way that we can carry
out effective communication strategies.
Our priority is to help our clients achieve their business objectives, through an analysis of the insights of their target audiences, and then influence their opinion of the brand.
We work in the various areas of communication with one main objective:
MAKE THE BRAND PROPOSAL COME TO YOUR
DIFFERENT STAKEHOLDERS
Arousing curiosity
and influencing
Using innovative
ideas and correct
information
Professionals of the Communication, Marketing, Digital
Marketing and Sustainability
ALL UNITED BY THE SAME PASSION: CREATIVITY
FAST UP is made up of a professional team highly trained in the various areas of communication, where it stands out:
Fast identification with your clients. Capacity for analysis and strategic development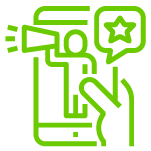 Knowledge and Influence on local media, influencers, IPersons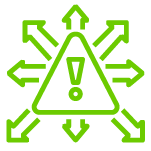 High capacity for emergency response and crisis management
Responsibility and dedication in the daily work.